Cloud computing is developing more and more, but do you really know what it is?
In this article, we will explain the basics of how it works and prove to you that having a cloud infrastructure is a practical and advantageous solution for your business.
Cloud computing: cloud application and software?
The word cloud computing, comes from the terms "computing" and "cloud", to put it simply, it is the fact of putting your computer data in "the clouds" which are in fact physical servers. It is a place where you have constant access with a simple internet connection, regardless of whether you are on your computer, tablet or phone.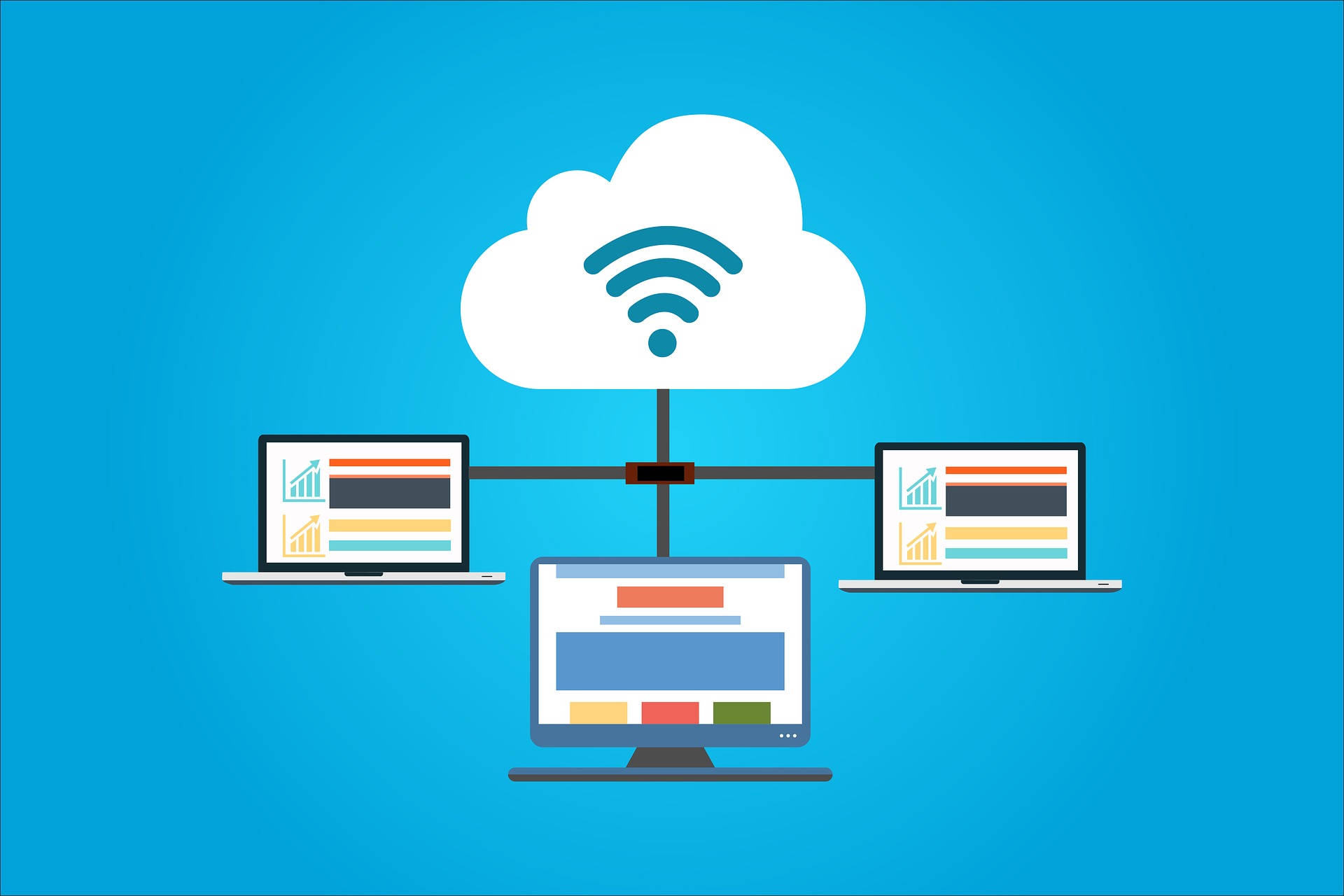 Clouds represent access to computer servers (software, servers, etc.), via the internet thanks to a provider. The cloud is an on-demand service, meaning that if a customer wants a resource immediately, it will be possible. It is a practical tool and it is measurable so a customer will only pay for what he uses.
To sum up, cloud computing is a means of production where resources can be managed and hosted at the cloud provider.
Different types of cloud: private, public, hybrid
To be more precise, cloud computing can be used to store or analyze your data, but also to run your applications and use online software. There are several kinds of cloud, private, public and hybrid.
The private cloud
This cloud will help you to have your own cloud space, on an internal server.
This model is particularly used for companies, the limits depend on the resources and means that the company makes available. The interest of a private cloud is to meet legal and security constraints and to be able to keep control of its technical infrastructure. But this cloud will allow you to have a cloud adapted to your needs because it will be designed by your request to meet all your specific needs. You will have full control over data security.
Public cloud
It will be managed by a service provider, it will host you in exchange for a subscription.
This subscription will cost you less than the private one, it will allow you to manage your storage space as you wish, but it will be less personalized because it is a model where the technical infrastructure will be outsourced to a supplier open to all .
The hybrid cloud
It's a mix between public and private, that is to say having internal and external resources to respond to overload peaks.
Different cloud models: Iaas, Paas, Saas
There are different cloud models of which three are the most often used, I will explain the differences as well as the commonalities between them.
IaaS, (infrastructure as a service)
This model is the least complete cloud, it provides server, storage and network. On the other hand, it offers infrastructure resources that can be adjusted on demand.
PaaS, (platerform as a service)
This model contains all the services of the iaas as well as the integrated tools which make it possible to develop applications. The pass offers instances of middleware, this model makes it possible to focus on the development of applications.
SaaS, (software as a service)
This cloud service contains all the services, it provides ready-to-use applications accessible via the client server client browser (online messaging). The goal is to provide ready-to-use applications, accessible with links through the browser and that updating the application is not a problem.
New systems
The "cass counterainers as a service" is between iass and pass, it is distinguished by the technology of containers which are isolated and separate execution environments at the level of the operating system.
The "faas functions as a service" is in the middle of the pass and the saas, this model of developer has the responsibility to code his function(s).
The benefits of cloud computing
We will see in this part some advantages:
Time saving: regardless

of your location or your computer equipment, you will have access to your data.

No need for investments

:

You already have your work computer.

Data security:

your data will be safe! If you want to know more, I let you take a look at this blog: link

Improved internal communication:

you will all have access to the same files in real time and at the same time.

Expandability:

No matter when, you can decide to expand your storage space or shrink it.
I hope I have answered your questions, the cloud has not finished evolving and developing. Stay on the lookout for new products and do not hesitate to contact us to ask us all your questions via the contact form!